Kitchen Beauty Hacks
DISCLAIMER
This blog has not been approved by your local health department and is not intended to provide diagnosis, treatment, or medical advice. Read More

This blog has not been approved by your local health department and is not intended to provide diagnosis, treatment, or medical advice. The content provided on this blog is for informational purposes only. Please consult with a physician or other healthcare professional regarding any medical or health-related diagnosis or treatment options. Information on this blog should not be considered as a substitute for advice from a healthcare professional. The claims made about specific products throughout this blog are not approved to diagnose, treat, cure, or prevent disease.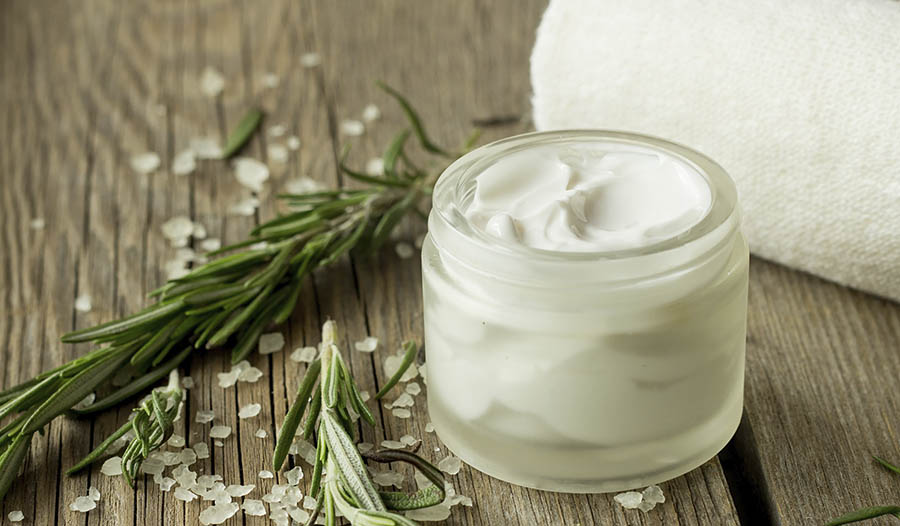 Craft your own beauty products with items from the kitchen.
The kitchen is calling, and delicious ingredients are waiting, but this time, you're not making snacks or meals. Rather, by mixing together common kitchen ingredients, you can prepare all-natural beauty treatments. Not only is this a cost-effective approach to taking care of your skin and hair, but it also allows you to control every ingredient that goes into your beauty products.
Edible ingredients are non-toxic and free of the parabens and other unpleasant additives that many cosmetic companies add to their products. There are no fancy cooking skills needed to whip up most beauty treatment recipes, so whether you are a master chef or a kitchen novice, you can handle making your own skin and hair products.
Lip Scrub
A homemade lip scrub is a quick and easy way to get smooth, kissable lips. The recipe comes together quickly, so you can be on your way to soft lips in no time. Gather coconut oil, sugar, and honey or agave nectar. Mix equal parts of each together.
Massage the mixture gently onto your lips. Let it sit for a few minutes so that the moisturizing effect of the honey and oil can really benefit your lips. While you wait, transfer leftover lip scrub to a tightly sealed container. Gently wash away the scrub with warm water. Then, go find someone kissable to test out your newly rejuvenated lips!
Lip Balm
Follow up your do it yourself lip scrub with a smear of homemade lip balm. Mix 2 tablespoons each of beeswax beads, cocoa butter, and coconut oil in a double boiler. Heat the ingredients over a pot of hot water so that the butter and oil melt. Once it is fully melted, take the mixture off the stove and stir in 1 teaspoon of vanilla extract.
The vanilla extract will lend a pleasant flavor to every swipe of this balm. However, if you'd prefer a cooling tingle, replace the vanilla with several drops of peppermint essential oil.
The lip balm can be stored in small jars or in empty lip balm tubes. Pour the melted mixture into your container of choice and set it aside to solidify. If you want to hurry the process along, stick the lip balm in the refrigerator until it sets. Once it's ready, just glide it over your lips.
Hair Conditioner
Next, it's all about hair treatments. A conditioner should leave your hair soft and manageable. Its goal is to smooth the hair's cuticles so that they lie smoothly against your hair strands, but to achieve this, commercial conditioners use a whole host of chemicals. Instead, turn to your kitchen for hair-softening products that are completely natural.
This do it yourself conditioner relies on apple cider vinegar, which has a strong smell. To counter this, make your conditioner with lavender-infused water, which smells good and also nourishes your hair. To make an infusion, put 4 tablespoons of dried lavender in a glass jar and cover it with 2 cups of simmering water. Leave this alone for 1 hour; then, strain out the flowers.
Add 2 tablespoons of apple cider vinegar and a splash of lemon juice to the lavender water. Pour the mixture into a spray bottle. During a shower, spritz your hair with the homemade conditioner and rinse it out. If you start to notice your tresses becoming dry, supplement the vinegar conditioner by applying coconut oil to the ends about once a week.
Hair Mask
You can also treat your locks to a nourishing hair mask every now and then. The primary ingredient in this one may surprise you: bananas! It's important to mix the banana up in a blender and puree it until completely smooth. Otherwise, you'll have clumps of banana in your hair, and no one wants to deal with that mess. Use a very ripe banana for easy pureeing. You can even freeze and thaw the banana to get it extra mushy.
Once you have smoothly pureed a banana, mix in 1 tablespoon of honey. Optionally, you can also add a splash of coconut oil or olive oil. After combining the mixture thoroughly, work it into your hair. Cover up with a shower cap so the mask stays in place. After 20 minutes, rinse the banana mixture off in the shower and follow up with your normal hair-washing routine.
Face Mask
Your face will enjoy a mask too. If you love the taste of chocolate, why not try a cocoa-based face mask? The delicious aroma will remind you of all your favorite cocoa treats, but this mask is good for more than just a sweet scent. Cocoa powder may help soothe your skin because it contains flavonols. These antioxidants have a reputation for boosting the flow of blood to your skin and may even combat the damage caused by free radicals.
To make a chocolate mask, put 1/2 cup of cocoa in the blender along with 1/4 cup of honey. Add 3 tablespoons of oats and 4 tablespoons of heavy cream. Blend the ingredients until they are smooth and form a thick paste. Spread this onto your face and let it sit for half an hour. In the meantime, feel free to indulge in a dark chocolate candy bar as you'll surely be craving one by this point. Once 30 minutes have passed, gently remove the mask by rinsing with warm water. Store any leftover mask mixture in the refrigerator.
Foundation Powder
You can even make your own foundation powder to subtly even out your skin tone and provide a thin layer of coverage. The base of this product is arrowroot powder. If your skin is light, you'll want to use more of this. If you have dark skin, add less. The color in your foundation will come from a mix of cinnamon, cocoa powder, and nutmeg. You'll have to add in the ingredients a little at a time and adjust as needed to find the best match for your skin tone. Because some faces are sensitive to cinnamon and other ingredients, test the makeup on a small area before using it all over your face.
The arrowroot-based makeup is a loose powder. If you prefer compact powder, drop a bit of olive or almond oil into the mixture and stir it thoroughly. Then, press it down into a container until it forms a fairly smooth layer. Whether you stick with the plain powder or go for the compact variety, use a makeup brush to apply the product to your face.
Foot Scrub
Natural-based beauty products will take care of your skin from head to toe. If your feet are rough and dry, use a homemade foot scrub on them. Combine equal amounts of olive oil, brown sugar, and baking soda for a sweet-smelling, lightly abrasive scrub that will exfoliate your dry skin.
Rub this on your feet. Focus especially on the heels and other rough parts. While you're at it, feel free to use the scrub on other dry or scaly areas, such as your elbows. After applying, rinse the scrub off thoroughly. If you are stepping into the shower next, be sure to dry your feet thoroughly first so that the oil in the scrub doesn't cause you to slip.
Cold Cream
Once you've mastered a few of the above recipes, try your hand at this more complicated recipe for homemade cold cream. The cream will take a bit longer to make than some of these other projects, but it will leave you with clean, soft skin.
Making cold cream is a science lesson in action. You're going to make an emulsion that mixes two normally unmixable ingredients: oil and water. Actually, in the case of this recipe, you're going to swap out plain water for green tea. That's because green tea is often used to calm irritated or acne-prone skin.
First, steep one or two bags of green tea in 3 ounces of hot water. After brewing the tea for 2 to 4 minutes, throw away the tea bag. Add 1/2 teaspoon of soy lecithin. Leave this mixture alone for 1 hour so that the soy lecithin can dissolve in the tea.
Once an hour has passed, reheat the tea water in a microwave-safe container until almost boiling. Next, combine 2 tablespoons of beeswax beads and 3 tablespoons of castor oil in a different microwave-safe container. Heat the wax and oil in the microwave until the beads melt.
Insert an electric mixer or immersion blender into the wax and oil mixture and start blending them together. With your opposite hand, slowly pour the tea into this container as you continue to whip.
After pouring half of the tea, add 20 drops of tea tree oil or another favorite essential oil. Then, resume the drizzling of the green tea into the container. As you blend the ingredients with the mixer, they will begin to thicken, but don't stop yet. Keep it up until the mixture is no longer warm. By that time, it will have turned into a thick cream.
Store the cream in a lidded container. Scoop out a bit to remove your makeup and clean your face or apply the cream as an overnight skin treatment.
Which homemade beauty treatments will you try first?
It takes a little more work to craft your own beauty products instead of using commercial ones, but when you do, you'll know exactly what goes into each one. Using food-safe ingredients ensures that your beauty routine will be free of toxins, parabens, and other unhealthy ingredients. Plus, you'll have the satisfaction of knowing that your fresh, clean, and beautiful look was made possible thanks to the work of your own two hands.