4 Different Causes of Hair Loss + How to Treat Each Naturally
DISCLAIMER
This blog does not intend to provide diagnosis... Read More

This blog does not intend to provide diagnosis, treatment, or medical advice. Read more. The content provided on this blog is for informational purposes only. Please consult with a physician or other healthcare professional regarding any medical or health-related diagnosis or treatment options. Information on this blog should not be considered as a substitute for advice from a healthcare professional. The claims made about specific products throughout this blog are not approved to diagnose, treat, cure, or prevent disease.
In this article: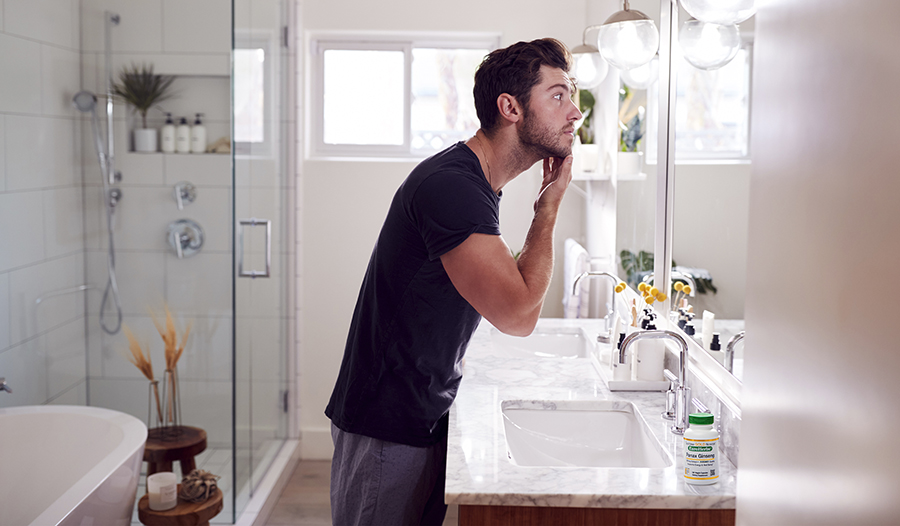 Hair loss is a common condition that can impact an individual's self-esteem. In any case of hair loss, understanding the underlying cause is key to treatment.
There are a number of different factors that can cause and contribute to hair loss. Some of the more common factors include:
Stress

Nutritional deficiencies

Autoimmune conditions: alopecia areata

Hormone changes: androgenic alopecia
Hair Loss from Stress
Stress-induced hair loss is officially called telogen effluvium. Different types of stressors can cause hair loss, including both physical and mental stress, illness, and even medications. Usually, hair loss occurs within a few weeks, although quicker and delayed hair loss after stress has all been documented.
Normally, hairs are all progressing through the hair cycle at different stages, with growth, resting phases, and shedding occurring on a normal, random basis. Due to an initiating stressor, hair growth phases can synchronize all at once into the shedding phase and excess hair loss occurs. When the stressor is temporary, recovery of hair usually takes place over time. In other cases with more chronic stress, long-term hair loss may take place.
Drugs, including some blood pressure medications, amphetamine, lithium, coumadin, and many others have been shown, in some cases, to cause hair loss. If you are struggling with recent-onset hair loss, reviewing any recent changes in medications could identify potential contributing factors.
The thyroid can also be associated with hair loss and should be evaluated to rule out problems. The stress of pregnancy sometimes results in temporary hair loss. And acute infections may cause transient hair loss in some individuals.
Treatment of Hair Loss from Stress
Other causes of hair loss should be ruled out before assuming stress is the only underlying cause. In cases of hair loss from stress, the hair usually recovers over time. While research is thin, some data suggests that an extract of millet, an African grain, can help stimulate hair growth. However, consuming millet in large quantities can reduce thyroid function, which could be counterproductive.
A separate small trial used a supplement containing curcumin, Boswellia, and grape extracts and found trends suggesting potential benefits for improving stress-induced hair loss.
Another small trial that included both androgenic alopecia and telogen effluvium found increasing benefits over time with both herbal shampoo and a topically applied herbal solution combined. The products contained extracts of nettles, chamomile, yarrow, locust bean gum, and horsetail.
While little evidence exists for treating telogen effluvium with adaptogenic herbs, their documented effects for improving stress resiliency might still be useful. Herbs with evidence for improving overall response to stress include ashwagandha, ginseng, Rhodiola, Eleutherococcus, and Schisandra among others.
Hair Loss From Nutritional Deficiencies
In unexplained cases of hair loss, evaluating nutritional status may also identify contributing factors. Deficiencies of nutrients that may contribute to hair loss include iron, zinc, niacin (vitamin B3), essential fats, vitamin D, and biotin.
Iron
Iron deficiency is well known to cause hair loss in some individuals. Restoring iron levels usually restores hair growth, although some cases don't respond. The amino acid lysine combined with iron has been reported to help, as has vitamin C. Both lysine and vitamin C have been shown to improve iron absorption.
Zinc
While the evidence is limited, it suggests that zinc deficiency may also play a role in hair loss. Zinc levels have been shown to be low in some subjects with hair loss and supplementation improved hair growth in those that were deficient.
Niacin (Vitamin B3)
Low levels of vitamin B3 cause a condition called pellagra. Common symptoms include light sensitivity of the skin, diarrhea, and dementia. In addition, hair loss can occur. While in the past pellagra was more common, the condition is now rare due to fortification. While outright niacin deficiency is unlikely, topical forms of nicotinic acid, a form of niacin, were shown to help improve hair fullness at six months.
Essential Fats
Essential fats can also be important for hair and skin health. Cases of deficiency have resulted in hair loss and changes in hair color, typically lightening. While data on treating hair loss with essential fats is scant, essential fatty acid deficiencies are common and simple to correct through supplementation.
Vitamin D
Evidence suggests that vitamin D may improve hair growth. Research has shown that lower levels of vitamin D correlate with different forms of hair loss. In men, the severity of early onset hair loss was associated with greater vitamin D deficiencies. As for treatment, a study in women with hair loss found that vitamin D supplementation improved hair regrowth.
Biotin
Biotin is often included in hair, skin, and nail formulas, and while it is true that biotin deficiency can cause hair loss, biotin deficiency is usually considered somewhat rare. However, a recent study on women with hair loss found evidence that 38% of them were deficient in the nutrient. Causes of biotin deficiency include eating too many raw egg whites, pregnancy, some gastrointestinal problems, alcoholism, and medications (valproic acid and isotretinoin). The documented benefits of biotin on hair growth are primarily from case studies suggesting some potential, but clinical trials are mostly lacking.
Autoimmune Hair Loss: Alopecia Areata
Another cause of hair loss is alopecia areata. Alopecia areata is an autoimmune condition that usually results in patchy hair loss. In severe cases, all hair may be lost over the entire body. Cases of alopecia areata can spontaneously recover and recur.
An older trial used essential oils of thyme, rosemary, lavender, and cedarwood that were diluted in jojoba and grapeseed oil for treatment. The trial found improvement in 44% of participants as compared to 15% in the control group. A separate trial combined topical garlic gel with standard therapy and found better hair regrowth and smaller patch sizes when topical garlic was applied over 3 months. Similar to garlic, topical onion juice was surprisingly effective, with noticeable hair regrowth in almost 94% of males and 71% of females after six weeks.
Oral herbal extracts have also been shown to help, with either a combination of vitamin B2 and white peony root extract or licorice root both being rated "markedly effective" in around 70% of individuals after three months.
Hormone Changes: Androgenic Alopecia
By far the most common form of hair loss is androgenic alopecia or male and female-pattern baldness. While other factors are involved, hormones are key in the development of androgenic alopecia. In men, standard treatments include medication that blocks the formation of dihydrotestosterone (DHT), a metabolite of testosterone. In women, drugs that reduce testosterone, in general, are often used.
Saw palmetto is an herb widely recommended as a treatment for benign enlargement of the prostate gland (BPH) in men. Data suggests that saw palmetto benefits the prostate, at least partially, by blocking the formation of DHT, similar to standard treatment used for male pattern baldness. A recent review of saw palmetto for hair loss found a 60% improvement in overall hair quality, although additional evidence is needed to confirm the effects.
Green tea extract also appears to block the formation of DHT. As such, extracts have been suggested as a topical formulation to treat androgenic alopecia. A small short-term study found that topical application in human volunteers appeared to stimulate hair growth. However, longer clinical trials are needed to ascertain the effectiveness of hair loss.
Pumpkin seed oil also appears to reduce DHT production. A trial in men using it as a treatment for androgenic alopecia found that after six months of taking pumpkin seed oil daily, hair count increased 40% as compared to 10% in the placebo group.
Panax ginseng is a classic tonifying herb in Chinese medicine. Research suggests that ginseng can help support hair growth, and a six-month clinical trial found improved hair density and thickness with its use.
And finally, a trial compared topical 1% rosemary oil to standard topical medication treatment for hair loss. While benefits were not seen with either treatment at 3 months, by six months, rosemary oil was shown to be at least as effective as the standard formulation.
Takeaway
Hair loss is a common and challenging condition, as no standard treatment is completely effective, and side effects can be of concern. Due to the effects on self-esteem, reversing hair loss in affected individuals can be important for overall well-being.
In cases where standard treatments are problematic, research suggests several natural treatments may help slow or reverse hair loss to some degree, typically with minimal side effects. Identifying the cause of hair loss and treating appropriately can help. Hopefully, as research continues, additional safe and effective options will become available for individuals struggling with different types of hair loss.
References:
Liyanage D, Sinclair R. Telogen Effluvium. Cosmetics. 2016;3(13):1-8.

Headington JT. Telogen effluvium. New concepts and review. Arch Dermatol. 1993;129(3):356-363. doi:10.1001/archderm.129.3.35

Keophiphath M, Courbière C, Manzato L, Lamour I, Gaillard E. "Miliacin encapsulated by polar lipids stimulates cell proliferation in hair bulb and improves telogen effluvium in women". J Cosmet Dermatol. 2020;19(2):485-493. doi:10.1111/jocd.12998

Nistico S, Tamburi F, Bennardo L, et al. Treatment of telogen effluvium using a dietary supplement containing Boswellia serrata, Curcuma longa, and Vitis vinifera: Results of an observational study. Dermatol Ther. 2019;32(3):e12842. doi:10.1111/dth.12842

Pekmezci E, Dündar C, Türkoğlu M. A proprietary herbal extract against hair loss in androgenetic alopecia and telogen effluvium: a placebo-controlled, single-blind, clinical-instrumental study. Acta Dermatovenerol Alp Pannonica Adriat. 2018;27(2):51-57.

Speers AB, Cabey KA, Soumyanath A, Wright KM. Effects of Withania somnifera (Ashwagandha) on Stress and the Stress-Related Neuropsychiatric Disorders Anxiety, Depression, and Insomnia [published online ahead of print, 2021 Jul 12]. Curr Neuropharmacol. 2021;10.2174/1570159X19666210712151556. doi:10.2174/1570159X19666210712151556

Lee S, Rhee DK. Effects of ginseng on stress-related depression, anxiety, and the hypothalamic-pituitary-adrenal axis. J Ginseng Res. 2017;41(4):589-594. doi:10.1016/j.jgr.2017.01.010

Anghelescu IG, Edwards D, Seifritz E, Kasper S. Stress management and the role of Rhodiola rosea: a review. Int J Psychiatry Clin Pract. 2018;22(4):242-252. doi:10.1080/13651501.2017.1417442

Jurcău RN , Jurcău IM, Kwak DH, Grosu VT, Ormenișan S. Eleutherococcus, Schisandra, Rhodiola and Ginseng, for stress and fatigue - a review. Health Sports Rehab Med. 2019;20(1):12-17.

Guo EL, Katta R. Diet and hair loss: effects of nutrient deficiency and supplement use. Dermatol Pract Concept. 2017;7(1):1-10. Published 2017 Jan 31. doi:10.5826/dpc.0701a01

Rushton DH. Nutritional factors and hair loss. Clin Exp Dermatol. 2002;27(5):396-404. doi:10.1046/j.1365-2230.2002.01076.x

Park H, Kim CW, Kim SS, Park CW. The therapeutic effect and the changed serum zinc level after zinc supplementation in alopecia areata patients who had a low serum zinc level. Ann Dermatol. 2009;21(2):142-146. doi:10.5021/ad.2009.21.2.142

Draelos ZD, Jacobson EL, Kim H, Kim M, Jacobson MK. A pilot study evaluating the efficacy of topically applied niacin derivatives for treatment of female pattern alopecia. J Cosmet Dermatol. 2005;4(4):258-261. doi:10.1111/j.1473-2165.2005.00201.x

Saleem F, Soos MP. Biotin Deficiency. In: StatPearls. Treasure Island (FL): StatPearls Publishing; April 14, 2021.

Sattar F, Almas U, Ibrahim NA, et al. Efficacy of Oral Vitamin D3 Therapy in Patients Suffering from Diffuse Hair Loss (Telogen Effluvium). J Nutr Sci Vitaminol (Tokyo). 2021;67(1):68-71. doi:10.3177/jnsv.67.68

Tamer F, Yuksel ME, Karabag Y. Serum ferritin and vitamin D levels should be evaluated in patients with diffuse hair loss prior to treatment. Postepy Dermatol Alergol. 2020;37(3):407-411. doi:10.5114/ada.2020.96251

Liu Y, Li J, Liang G, Cheng C, Li Y, Wu X. Association of Alopecia Areata with Vitamin D and Calcium Levels: A Systematic Review and Meta-analysis. Dermatol Ther (Heidelb). 2020;10(5):967-983. doi:10.1007/s13555-020-00433-4

Sanke S, Samudrala S, Yadav A, Chander R, Goyal R. Study of serum vitamin D levels in men with premature androgenetic alopecia. Int J Dermatol. 2020;59(9):1113-1116. doi:10.1111/ijd.14982

Trüeb RM. Serum Biotin Levels in Women Complaining of Hair Loss. Int J Trichology. 2016;8(2):73-77. doi:10.4103/0974-7753.188040

Grootens KP, Hartong EGTM. A Case Report of Biotin Treatment for Valproate-Induced Hair Loss. J Clin Psychiatry. 2017;78(7):e838. doi:10.4088/JCP.17cr11469

Aksac SE, Bilgili SG, Yavuz GO, Yavuz IH, Aksac M, Karadag AS. Evaluation of biophysical skin parameters and hair changes in patients with acne vulgaris treated with isotretinoin, and the effect of biotin use on these parameters. Int J Dermatol. 2021;60(8):980-985. doi:10.1111/ijd.15485

Barton VR, Toussi A, Awasthi S, Kiuru M. Treatment of pediatric alopecia areata: A systematic review [published online ahead of print, 2021 Apr 30]. J Am Acad Dermatol. 2021;S0190-9622(21)00922-1. doi:10.1016/j.jaad.2021.04.077

Hay IC, Jamieson M, Ormerod AD. Randomized trial of aromatherapy. Successful treatment for alopecia areata. Arch Dermatol. 1998;134(11):1349-1352. doi:10.1001/archderm.134.11.1349

Hajheydari Z, Jamshidi M, Akbari J, Mohammadpour R. Combination of topical garlic gel and betamethasone valerate cream in the treatment of localized alopecia areata: a double-blind randomized controlled study. Indian J Dermatol Venereol Leprol. 2007;73(1):29-32. doi:10.4103/0378-6323.30648

Yang DQ, You LP, Song PH, Zhang LX, Bai YP. A randomized controlled trial comparing total glucosides of paeony capsule and compound glycyrrhizin tablet for alopecia areata. Chin J Integr Med. 2012;18(8):621-625. doi:10.1007/s11655-012-1173-0

Sharquie KE, Al-Obaidi HK. Onion juice (Allium cepa L.), a new topical treatment for alopecia areata. J Dermatol. 2002;29(6):343-346. doi:10.1111/j.1346-8138.2002.tb00277.x

Ho CH, Sood T, Zito PM. Androgenetic Alopecia. In: StatPearls. Treasure Island (FL): StatPearls Publishing; May 5, 2021.

Ullah R, Wazir J, Hossain MA, et al. A glimpse into the efficacy of alternative therapies in the management of benign prostatic hyperplasia. Wien Klin Wochenschr. 2021;133(3-4):153-162. doi:10.1007/s00508-020-01692-z

Evron E, Juhasz M, Babadjouni A, Mesinkovska NA. Natural Hair Supplement: Friend or Foe? Saw Palmetto, a Systematic Review in Alopecia. Skin Appendage Disord. 2020;6(6):329-337. doi:10.1159/000509905

Zgonc Škulj A, Poljšak N, Kočevar Glavač N, Kreft S. Herbal preparations for the treatment of hair loss. Arch Dermatol Res. 2020;312(6):395-406. doi:10.1007/s00403-019-02003-x

Kwon OS, Han JH, Yoo HG, et al. Human hair growth enhancement in vitro by green tea epigallocatechin-3-gallate (EGCG). Phytomedicine. 2007;14(7-8):551-555. doi:10.1016/j.phymed.2006.09.009

Cho YH, Lee SY, Jeong DW, et al. Effect of pumpkin seed oil on hair growth in men with androgenetic alopecia: a randomized, double-blind, placebo-controlled trial. Evid Based Complement Alternat Med. 2014;2014:549721. doi:10.1155/2014/549721

Sabouri-Rad S, Sabouri-Rad S, Sahebkar A, Tayarani-Najaran Z. Ginseng in Dermatology: A Review. Curr Pharm Des. 2017;23(11):1649-1666. doi:10.2174/1381612822666161021152322

Kim JH, Yi SM, Choi JE, Son SW. Study of the Efficacy of Korean Red Ginseng in the Treatment of Androgenic Alopecia. The Korean Soc Ginseng. 2009;33(3):223-228.

Panahi Y, Taghizadeh M, Marzony ET, Sahebkar A. Rosemary oil vs minoxidil 2% for the treatment of androgenetic alopecia: a randomized comparative trial. Skinmed. 2015;13(1):15-21.