The Best Health and Wellness Habits from the Pros
DISCLAIMER
This blog does not intend to provide diagnosis... Read More

This blog does not intend to provide diagnosis, treatment, or medical advice. Read more. The content provided on this blog is for informational purposes only. Please consult with a physician or other healthcare professional regarding any medical or health-related diagnosis or treatment options. Information on this blog should not be considered as a substitute for advice from a healthcare professional. The claims made about specific products throughout this blog are not approved to diagnose, treat, cure, or prevent disease.
In this article: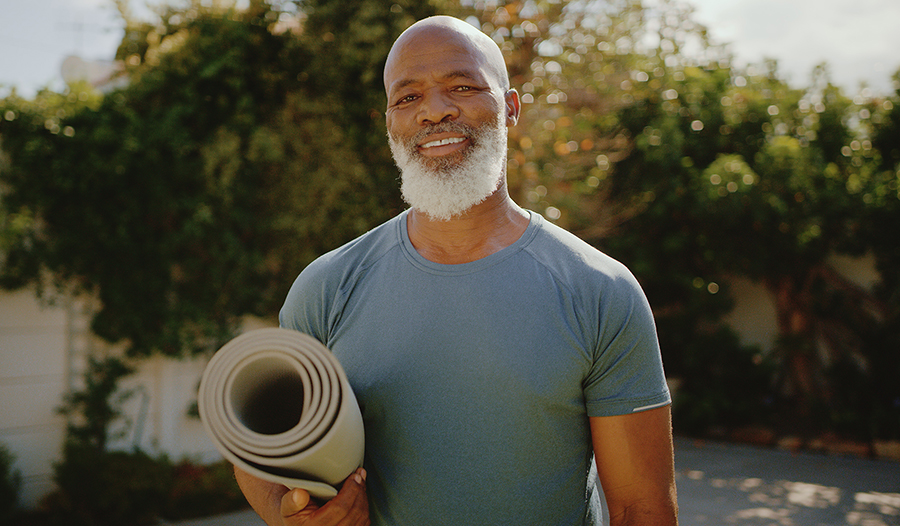 Health and wellness is at the top of most people's minds right now. The pandemic has caused many of us to take a long, hard look at our health—both physical and emotional—and consider ways to improve it.
We talked to four health and wellness professionals about how the pandemic is affecting their wellness practices, and what they're doing not just to survive during this time, but to thrive as well. Here's what they had to say.
‌‌‌‌A Personal Trainer's Productivity and Workout Hacks
During times like this, keeping a busy mind makes my days roll by. Being productive and having the time and ability to work on new projects keeps me going. I also have a family, and focusing on being a husband and father keeps me grounded as well. This pandemic has brought a lot of trials, but also so much joy and good fortune.
Keeping myself in tip-top shape is so important right now. I start my day off with my vitamins (vitamin D, multivitamin, and an amino acid supplement) and a strong cup of black coffee along with 16 ounces of cold water to shock my system. Then I hit the gym for my 30 minutes of cardio. It helps me think and plan out my day to make it more effective and fluent with all that I have to do.
After I'm done with my first round of cardio, I normally start my workday with my clients. For lunch, I will usually have a salad with an 8-ounce piece of chicken. Then for dinner, I normally just eat leftovers.
- Valentine Barnaby, certified personal trainer and owner of ESSA Sports Training in Tinton Falls, NJ
‌‌‌‌A Pediatrician's Tips for Outdoor Exercise and Self-Care
Self-care for me right now doesn't look the same as it did before the start of the global pandemic.
Before, I was playing on multiple recreational co-ed soccer teams and visiting the gym often, but now I have rediscovered my passion for running outdoors. I make time in the morning to go for a long jog and ensure that I stay distanced from others and this routine allows me to clear my head.
Additionally, I've done my best to continue to pamper myself as best as I can—whether that means facial masks or polishing my fingernails and toenails at home. I have always loved to read and to write, so I've continued both, and I have made an effort to stay connected with family and friends virtually to optimize my social health.
I also find that eating a balanced diet that is not restrictive, drinking a lot of water to stay hydrated, and working on my sleep hygiene are three very important factors for my immunity and overall health, so I have focused on them a lot over the past few months.
- Dr. Cherilyn Cecchini, board-certified pediatrician in New York, NY
‌‌‌‌A Registered Dietitian's Advice on Having a Plan
One of my favorite ways to stay healthy during stressful times is with good planning. When setting my week up I block out all of my time. This allows me to feel less stressed. For me, it is harder to feel overwhelmed when I know what I'm doing when. It doesn't always go 100% as planned, but it's the framework of the day.
I also make sure to plan out my meals and block out time for physical activity, even if it is only 20 minutes. Taking the time to do physical activity seems daunting but feels so great once it's done.
- Rhyan Geiger, RDN, owner, and founder of Phoenix Vegan Dietitian in Arizona
‌‌‌‌A Naturopath's Trick to Managing Uncertainty in Difficult Times
Routine has become my medicine over the past few months. In times of uncertainty, it's helpful to double down on the things we can control—attitude, schedule, food, sleep, and stress management.
Having a healthy lifestyle boosts immunity as well, so my routine helps me rest easier knowing I'm doing everything I can for my health.
When working from home led to long nights and less sleep recently, I focused on my nighttime routine and quickly got back on track. Taking magnesium and having a nightly gratitude practice helps to relax me and get me ready for a good night's sleep.
If I lose my way during a busy few days of clients, I re-focus by anchoring back into my healthy daytime routine, which includes meditation, supportive supplements like digestive enzymes and electrolytes, and setting aside time for movement.
- Dr. Kate Henry, Naturopathic physician in Exton, PA
Wellness Routines Are Unique, Just Like You
Wellness looks different for each of these professionals, and it will look different for you, too. Focus on the areas of your health and well-being that you want to optimize, and find ways to incorporate small changes that can have big impacts on your wellness. It could be something as simple as taking a daily walk for your mental and physical health, or as complex as overhauling your whole routine one step at a time.