Snacking More than Ever? Keep These 3 Healthy Staples on Hand
DISCLAIMER
This blog does not intend to provide diagnosis... Read More

This blog does not intend to provide diagnosis, treatment, or medical advice. Read more. The content provided on this blog is for informational purposes only. Please consult with a physician or other healthcare professional regarding any medical or health-related diagnosis or treatment options. Information on this blog should not be considered as a substitute for advice from a healthcare professional. The claims made about specific products throughout this blog are not approved to diagnose, treat, cure, or prevent disease.
In this article: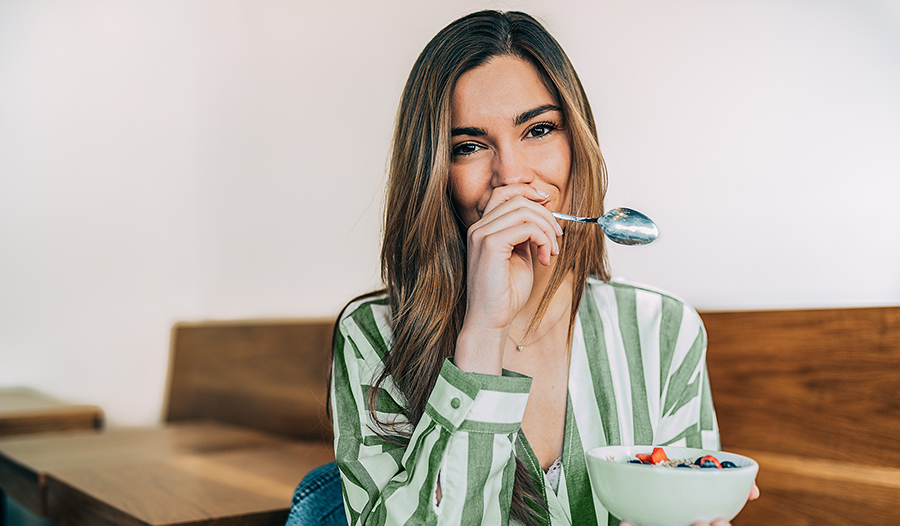 Working from home for months on end can be challenging in various ways. Anxiety, frustration, balancing work and family, more time on your hands, and proximity to lots of junk food can all combine to make you snack more than ever during the day.
Have you counted the number of small meals or snacks you have been eating these days? If you have, you probably would be shocked! All those extra calories can lead to unwanted pounds, especially if you are sedentary. Plus, mindless snacking on unhealthy foods can cause your energy levels to crash, which is the last thing you want during a busy workday.
The trick to staying healthy and preparing nutritious foods starts with snacking wisely. Choose food ingredients that promote your health and do not lead to weight gain. In this article, you will read about a number of nutritious snacks that you can plan ahead of time.
‌‌‌‌Chia Seeds are a Superfood Powerhouse
Chia seeds are the seeds of the chia plant which are high in nutritional value. They contain a high proportion of fiber and protein, which is why they keep you feeling fuller for longer and may help you to maintain weight. Chia seeds are also a rich source of good fats that help you to maintain your heart health, plus they are loaded with antioxidants. Since they deliver a high amount of nutrients and are low in calories, they are ideal for incorporating into your snacks.
3 Quick and Easy Chia Seeds Snack Ideas
Mixed jam with chia seeds: Take 2 cups of mixed berries and 2 tablespoons of chia seeds and blend them well. You can use a few drops of

honey

or

stevia

if you wish to sweeten up your jam. Put the mixture into small packs and refrigerate for an hour. After an hour, you will have prepared your own unique jam that is ready to be spread over whole-grain toast.

Chia-coconut refresher: You can mix chia seeds into coconut water to make a super-nutritious and filling drink. Mix 1 tablespoon of chia seeds in 1.5 cups of coconut water. Allow 30 minutes for the mixture to thicken and then add a few drops of lemon juice or orange juice to flavor the mixture before you drink it.

Chia seed pudding: Take 2 tablespoons of chia seeds, 3 tablespoons of deseeded dates or strawberries, 1 tablespoon of

almond butter

, and soak in 2 cups of almond milk overnight. In the morning, blend everything together into a creamy mixture. Serve in pudding cups with chia seeds or chopped fruit on the top.
‌‌‌‌Seaweed is Rich in Nutrients and Flavor
Seaweed is a type of algae found in the ocean which are predominantly used in Asian dishes and has now gained worldwide fame for its nutrient-dense qualities. Seaweed is available in various colors and forms and is a food item loaded with iodine and tyrosine which may help to maintain a healthy thyroid function. It is also rich in vitamins A, E, K, the B complex groups, and minerals like iron, manganese, and copper. Being rich in antioxidants, seaweed may help to protect your body from various diseases. It also may aid in digestion and promote gut health. Being rich in fiber, seaweed keeps you fuller for a longer period of time and may also be helpful for weight management.
3 Delicious Seaweek Snack Ideas
Seaweed smoothie: Take a cup of blanched spinach, a diced cucumber, a spoonful of

almond butter

, a few sheets of seaweed, ice, and water for a rich and creamy smoothie with a twist. If you prefer sweet smoothies add your favorite

sugar substitute

.

Sushi rolls: If you are making a snack with seaweed then you have to try making your own sushi rolls. Even if you do not prefer the standard ingredients of sushi rolls, you can use more familiar ingredients for the filling, such as crunchy carrots, diced chicken, and chopped garlic. Enjoy this nutritious and different snack to stay healthy and satiated.

Avocado-seaweed snack: Take an avocado and slice. Generously, sprinkle on some dried seaweed and

chia seeds

. Add a bit of lemon juice and salt to enhance the flavor. You will love this delicious snack which will give your health a boost.
‌‌‌‌Stock up on Superfood Snacks
Superfoods are foods that deliver an enormous amount of nutrients and health benefits. Assorted berries, greens, legumes, yogurt, nuts, seeds, garlic, ginger, and avocado are all commonly available superfoods that you can easily use to make a delicious snack that will enhance your health and will not make you pack on the unwanted pounds if eaten more frequently.
These snacks mentioned below are easy to make and loaded with health benefits. You can always create your own versions that suit your taste buds as well as your health.
3 Healthy and Easy Superfood Snack Ideas
Fruit salad: Place ½ lb. of mango chunks, ½ lb. of quartered strawberries, and ½ lb. of peeled kiwi chunks in a large bowl. Squeeze half a lemon and drizzle a tablespoon of your favorite

sweetener

over the fruit. If you prefer more flavors you can add chopped cilantro or mint leaves on top. Mix lightly and enjoy a bowl of goodness.

Berry-yogurt parfait: In a tall glass serving bowl, layer Greek yogurt with mixed berries. Top with granola or mixed

seeds and nuts

, and drizzle with

honey

.

Banana with pumpkin seeds: Cut a banana into slices and top it with a sprinkling of toasted

pumpkin seeds

. Enjoy this wholesome snack that is packed with nutrients.
‌‌‌‌Choosing Pre-Packaged Snacks
While homemade is usually better, it's also a good idea to keep some pre-packaged snacks on hand for busy workdays (or, if you have kids who are doing remote learning). Choose snacks that are low in sugar and high in protein and fiber. Packaged seaweed snacks, protein bars, and mixed nuts and seeds are all great options for a quick pick-me-up.
It is very important that you choose mainly nutrient-dense foods to consume while you work from home during this time because as we all know, it is easy to put on weight and much harder to lose it. Plus, healthier snacks will keep your energy levels constant throughout the workday and may help you maintain focus. So, why not try some of these quick and healthy ideas?
Another point to remember is that lack of exercise is bad for your health, so get moving by incorporating some light exercises, which will do a lot for your emotional and physical wellbeing.
During these uncertain times, it's important to take care, stay strong, and remind yourself every day that this too shall pass.