Healthy Snack Ideas for School
DISCLAIMER
This blog does not intend to provide diagnosis... Read More

This blog does not intend to provide diagnosis, treatment, or medical advice. Read more. The content provided on this blog is for informational purposes only. Please consult with a physician or other healthcare professional regarding any medical or health-related diagnosis or treatment options. Information on this blog should not be considered as a substitute for advice from a healthcare professional. The claims made about specific products throughout this blog are not approved to diagnose, treat, cure, or prevent disease.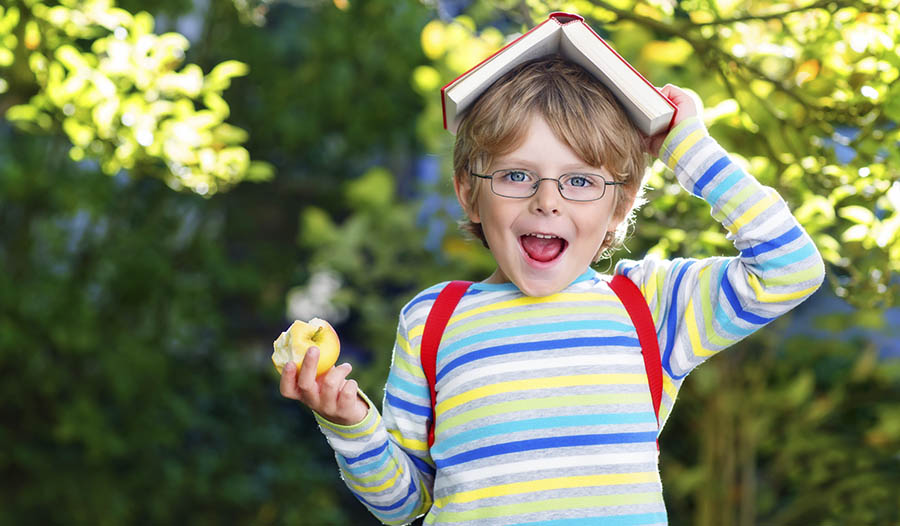 It's no surprise that kids love to snack, and while snacking can be part of a healthy diet, the types of snacks consumed are a variable that needs to be highly considered.
Although recent data show that consumers are more interested in snacks that provide a balance of healthy and indulgent options, previous research showed that more than 27 percent of children's daily calories are coming from snacks, and desserts and sweetened beverages are the major sources of these calories.
Cut Down on Sugary Snacks
While sweet treats can absolutely have a place in the diet, there are many good reasons to eat less of them. Consumption of added sugars is associated with increased body weight, cavities and risk of type 2 diabetes and heart disease.
When choosing packaged snack foods, be sure to read the ingredients list to check for sources of added sugars. Some ingredients to watch out for include cane sugar, dextrose, fructose, corn syrup, brown rice syrup, fruit juice concentrate, honey, molasses and evaporated cane juice. Any ingredient with "syrup" or "sugar" is a type of added sugar.
Improve School Snacks
Snacking among children isn't going to stop anytime soon, so the goal isn't to eliminate snacks. Rather, it's important to improve snack options and provide children with snacks that fill in the nutrition gaps for the day. For example, pack a serving of dairy for a mid-morning snack and include vegetables in an afterschool snack to account for missing food groups during in the day.
During the school year, keep in mind that the most nutritious and satiating snacks are those that include some combination of complex carbohydrates, lean protein and healthy fats. It's important to remember that snacks are not replacements for meals and should not be too big, otherwise children will not be hungry at mealtime or they will consume too many calories for the day. Snacks are also not treats, so steer clear of snack foods loaded with added sugar and opt for ones made of whole foods instead.
6 Easy Snacks for School
1. Nut-Free Trail Mix
Combine unseasoned popcorn, sunflower and pumpkin seeds, dried fruit, and cacao nibs or mini dark chocolate chips.
2. Apple Nachos
Use a mandoline to thinly slice apples and toss with lemon juice to prevent browning. Arrange apples on a plate and add toppings, such as low-fat plain yogurt, peanut butter, crushed nuts, mini dark chocolate chips, shredded coconut and ground flaxseed.
3. Roasted Chickpeas and Fruit
Roasted chickpeas with a piece of whole fruit (apple, banana, pear) is an easy, balanced snack to take on the go. There are many brands of roasted chickpeas, or you can make your own. Drain, rinse and pat dry a can of low-sodium chickpeas. Toss with olive oil and herbs or spices of choice and spread in a single layer on a baking sheet. Roast in the oven at 400 degrees F, stirring occasionally, until chickpeas are dry and crispy, about 35 to 40 minutes. Let the chickpeas cool completely before storing in an airtight container.
4. Parfaits
Top low-fat plain yogurt or cottage cheese with two to three healthy toppings, such as fresh fruit, whole grain cereal, crushed nuts, seeds or ground flaxseed.
5. Veggie Snack Platter
Arrange sliced cucumbers, bell peppers, baby carrots, shelled edamame and cherry tomatoes on a plate with cheese, hummus, nut butter, or a yogurt-based dip.
6. Smoothies
Blend fresh or frozen fruit with low-fat plain yogurt or kefir, a drizzle of honey, and ground flaxseed or nut butter.
References:
Information Resources Inc. State of the snack food industry 2018. https://www.iriworldwide.com/en-us/Insights/Webinars/2018-State-of-the-Snack-Food-Industry. Published March, 2018. Accessed August 9, 2018.

Popkin B, Piernas C. Trends In Snacking Among U.S. Children. Health Aff. 2010; 29(3):398-404.