Peppermint Oil - For Gut Health
DISCLAIMER
This blog does not intend to provide diagnosis... Read More

This blog does not intend to provide diagnosis, treatment, or medical advice. Read more. The content provided on this blog is for informational purposes only. Please consult with a physician or other healthcare professional regarding any medical or health-related diagnosis or treatment options. Information on this blog should not be considered as a substitute for advice from a healthcare professional. The claims made about specific products throughout this blog are not approved to diagnose, treat, cure, or prevent disease.
In this article: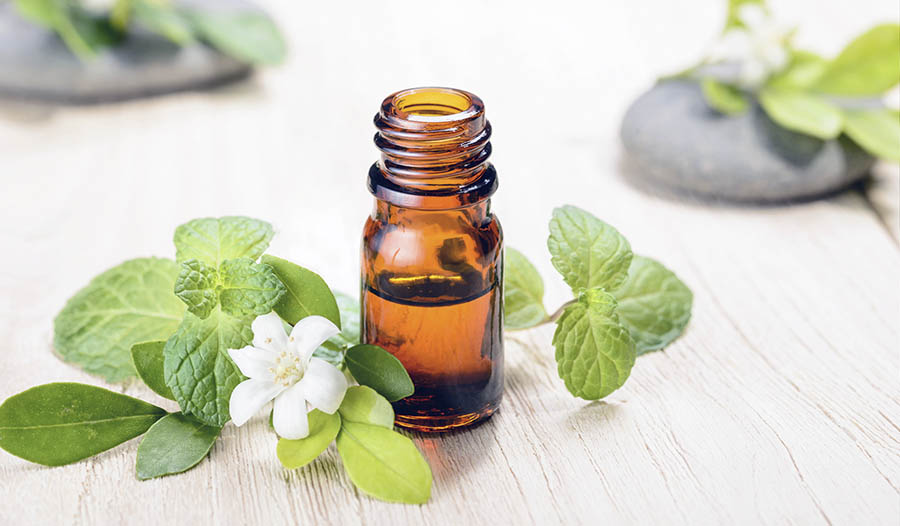 Enteric Coated peppermint oil has been shown to be quite helpful in improving gastrointestinal function in individuals suffering from the irritable bowel syndrome (IBS) - a common functional disorder of the large intestine characterized by some combination of: (1) abdominal pain, (2) altered bowel function, constipation, or diarrhea, (3) hypersecretion of colonic mucus, (4) dyspeptic symptoms (flatulence, nausea, anorexia), and (5) varying degrees of anxiety or depression.
In several double-blind studies, enteric-coated peppermint oil (ECPO) has been shown to be effective in relieving all symptoms of IBS in approximately 70-85% of cases within a two to four week period. In the latest trial, 42 children between 8-10 years old with IBS were given ECPO or placebo for 2 weeks. The dosage was one capsule three times daily for children 30-45 kg and two capsules three times daily for children over 45 kg. After 2 weeks, 76% of the ECPO group reported significant improvements compared to only 19% in the placebo group.
One of the central features in IBS is a hypercontractility (excessive contraction) of intestinal smooth muscle. Peppermint oil inhibits the hypercontractility of intestinal smooth muscle making it useful in cases of the irritable bowel syndrome as well as esophageal spasm and intestinal colic.
Health Benefits of Peppermint Oil
In addition to its effects in IBS, enteric-coated peppermint oil exerts benefits in non-ulcer dyspepsia, gastroesophageal reflux disorder, intestinal overgrowth of Candida albicans (a common yeast implicated in many cases of IBS) and Helicobacter pylori (a bacteria linked to peptic ulcer disease and stomach cancer), and cases of gallstones.
Peppermint Oil Along with Caraway Oil
Several of the clinical studies featured the combination of peppermint oil and caraway oil. The results of these trials indicate that this combination produces better results than peppermint oil alone in symptoms of IBS. Recent studies also indicate the combination of peppermint and caraway oil is quite helpful in improving non-ulcer dyspepsia (NUD). Symptoms of NUD include heartburn as well as difficulty swallowing, feelings of pressure or heaviness after eating, sensations of bloating after eating, stomach or abdominal pains and cramps, as well as all of the symptoms of IBS. About three out of ten patients with NUD also meet the criteria for IBS.
In one double-blind study, 120 patients with NUD were given either the peppermint and caraway seed oil or cisapride (Propulsid) for 4 weeks. The mean reduction of pain score was comparable in both groups (4.62 for ECPO; 4.6 cisparide). Other symptoms of NUD also improved in a similar fashion. Positive results were also found in H. pylori positive individuals.
The significance of this study is ENORMOUS. While enteric-coated peppermint and caraway seed oil are extremely safe at recommended levels, Propulsid caused fatal heart rhythm problems. According to the United States Food and Drug Administration, at least 111 people died as a result of Propulsid use and nearly 400 developed heart abnormalities. Propulsid has subsequently been yanked off the market.
How does Enteric Coated Peppermint Oil help Gallstones?
Several studies have shown a combination of volatile oils can help dissolve gallstones. This approach to gallstone removal is not effective in all cases, but it does offer the opportunity for an effective alternative to surgery. The major components of the formula used in these studies was menthol and carvone – the major components of peppermint oil and caraway oil, respectively.
Dosage Recommendations
The typical dosage recommendation for enteric coated peppermint oil capsules containing 0.2 ml per capsule is one or two capsules twice daily between meals